Hello everyone! Today's blog is a little different and will be a bit more text heavy. Through research into the topic, we have found some excellent sources that shine a light onto women's integral part of the mining industry and will be using those sources, to share some highlights with you. 
SOURCE 1: John, A. (1982). Scratching the Surface. Women, Work and Coalmining History in England and Wales. Oral History, 10(2). pp. 13-26.
Throughout working-class history, many historians have centred academic focus around work and industry, but often overlooked the community as a whole.  The focus on work and industry has resulted in an absence of studies regarding the social life of mining communities throughout history.
How was your family unit structured in the 1900s? When thinking of the social life of mining community, we feel it is always best to hear from local people themselves, as we look back through our roots. Lived experience is invaluable. 
The expansion of work at the pit surface during the second half of the nineteenth century resulted in a higher demand of coal. In reference to the 'Pit Brow Lasses', a Lancashire coined term, women worked at collieries and ironworks in parts of Staffordshire, Shropshire, Cumberland, South Wales and most commonly in West Lancashire. Duties undertaken ranged from unloading tip tubs at the surface, to transporting coal. As you can see, a very integral part of the work.
SOURCE 2: BBC. (2014). Nation on Film – Coal Mining in the North East.
Women mining workers sorting coal
Although this source focuses on the North East, you get a picture of what Mining Communities were like and how they operated on the surface. The account below, provides insight into the history of Mining Communities and their structure.
The communities were close-knit with their own social clubs, community facilities and brass bands.

A common sight were the pit cottages. Pits were often isolated, and the homes were built near them.

A typical collier's cottage consisted of two to four rooms and sometimes had a pitman's garden nearby.

Coal was moved from the pithead by railway. Many collieries had their own systems with lines connecting to the main rail network.
SOURCE 3: Rights belong to – NATIONAL COAL MINING MUSEUM FOR ENGLAND
This image of a pit brow lass adorned a postcard in the late 19th Century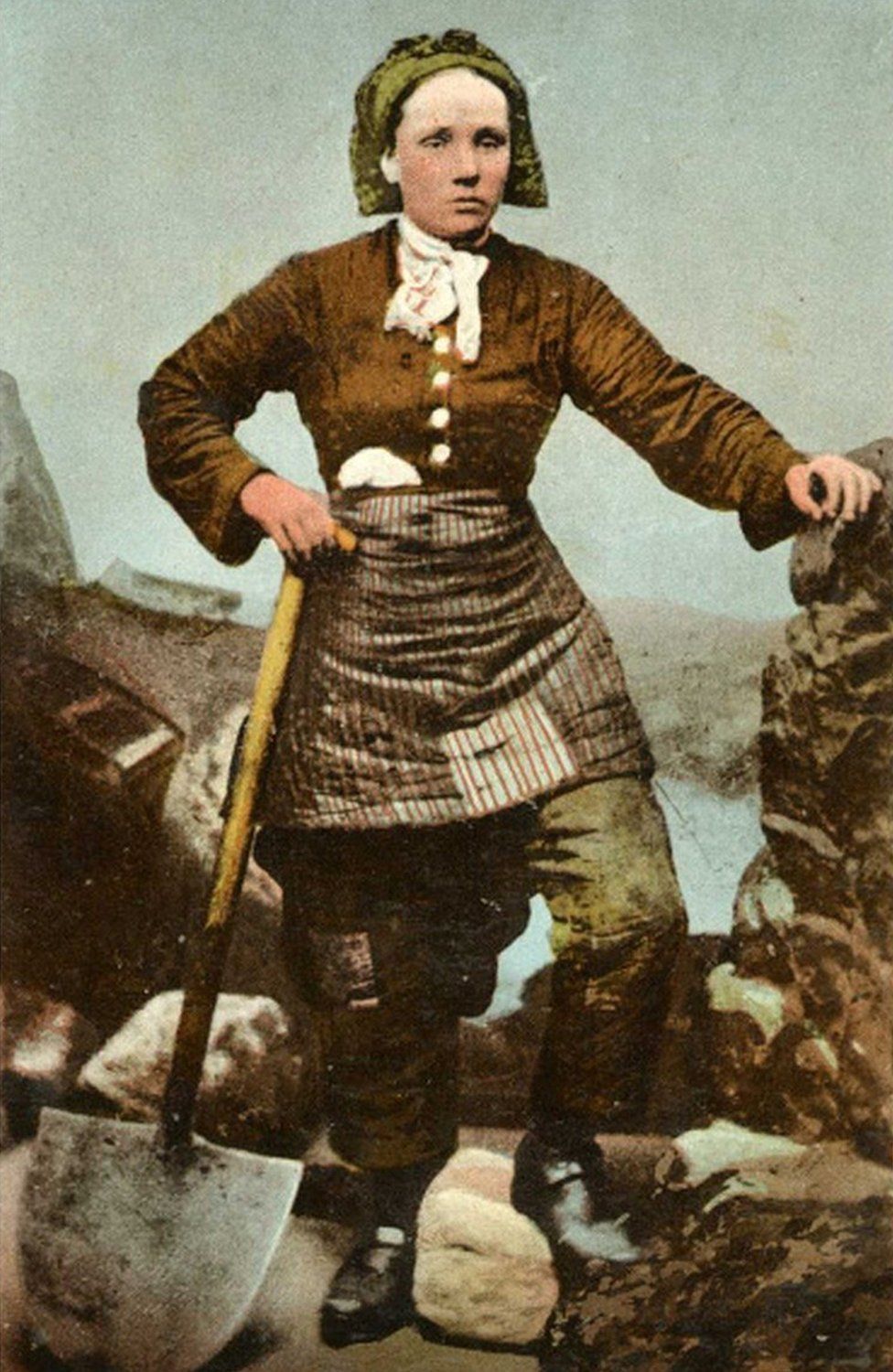 Any stories from history that you wish to share with us regarding women in the community, email: nottswomenandmining@outlook.com